Pinterest Consulting Services
Have you tried breaking into Pinterest but have not had any luck? Or maybe you want to get started using Tailwind but don't know where to begin?
Did you know… Pinterest is the 3rd largest search engine…that's right…search engine! Pinterest is not another social media channel and it cannot be treated as such. There are 150 million active users on Pinterest!
Are you looking for more brand exposure and website traffic? Pinterest can provide that to you. With a bigger Pinterest presence, you can:
• Gain visibility
• Increase brand recognition
• Build trust with current followers
• Increase traffic to your website
• Grow your email list
• Sell your products
• And more!
My Pinterest Story
I struggled to make my blog grow. I had been blogging for a year and a half with only 1000 page views per month, an email list hardly worth mentioning, and revenue that was literally only pennies a month. Blogging and running a small business takes a lot of time and hard work. Imagine only getting PENNIES to show for it! I decided either I start earning more from my blog, or cut back on effort and treat my blog as a hobby. I didn't want to give up yet so started focusing my energy on learning Pinterest and within a few, weeks my blog GREW! Within the first 30 days of consistently growing my Pinterest presence, I increased my blog traffic by 600%, email list by 125% and income by 400%.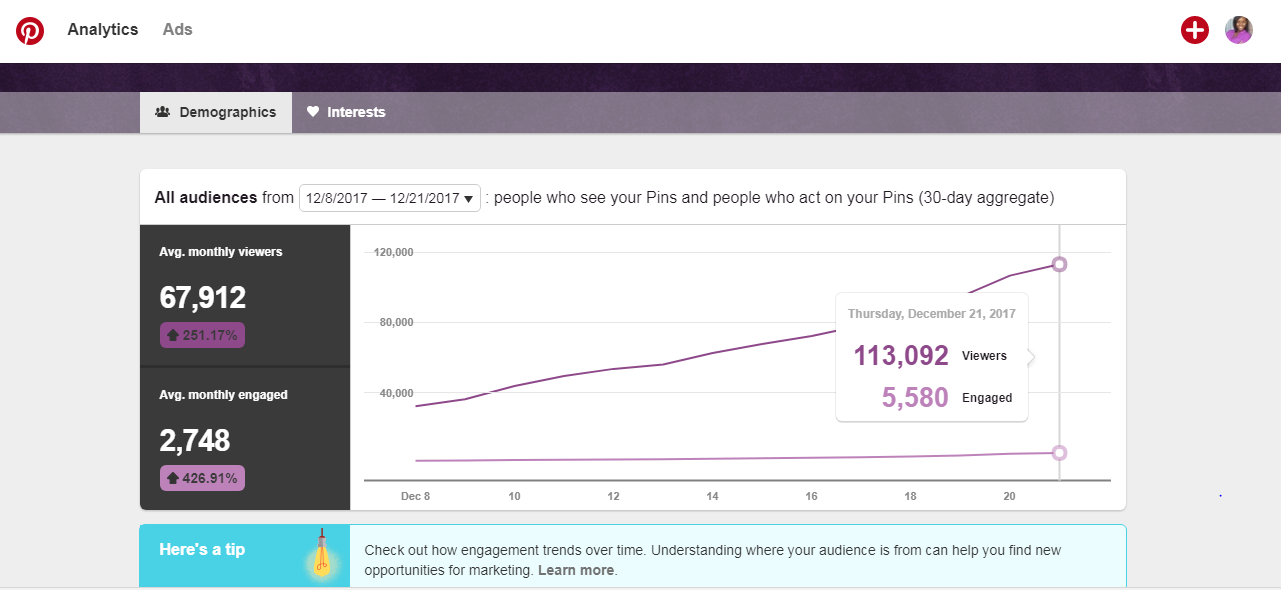 Services and Pricing
Monthly Management Packages

Set Up Fee Starting at $329
Set Up includes:
1. Identifying keywords (pillar and long tail) that connect you to your target audience.
2. Applying SEO strategies & tactics to your profile so you get found on Pinterest's search engine.
3. Providing you with tips to help promote your Pinterest business page through other socials and marketing materials.
4. Providing you with keywords and an SEO strategy that you can begin adding to your pin descriptions.
5. Cleaning up 5 board titles and 5 board description and optimizing them to rank high on both Pinterest's & Google's search engine.
6. Create 5 Pinterest images to drive shoppers to your online store or blog.

Bronze

Starting at $295 per Month
Up to 4 Boards per Month for Optimizing
5 to 10 Pins per Day
Follow 1 Influencer Repinner per Week
4 Pin Images per Month
Monthly Report




Silver

Starting at $695
Up to 8 Boards per Month for Optimizing
10 to 15 Pins per Day
Follow 3 Influencer Repinner per Week
8 Pin Images per Month
Board Monitoring (including Group Boards)
Monthly Report



Gold

Starting at $995
Up to 12 Boards per Month for Optimizing
15 to 20 Pins per Day
Follow 5 Influencer Repinner per Week
12 Pin Images per Month
Board Monitoring (including Group Boards)
Engagement
Monthly Report
A La Carte Services Starting at...

• Consultations: 30 Minutes-$49, 1 hour-$79
• Tailwind Set-Up: $195
• Account Audit: $395
• Researching and applying to 10 group boards: $195
• Manage up to 3 group boards: $125/month
• Manage up to 5 Promoted Pins: $159/month
• Clean up to 10 boards: $195
• Clean Tailwind: $195